Oil & Filter Change $29.95
Diesel Oil & Filter Change $79.95
Rotate & Balance Tires $39.95
4-Wheel Alignment $69.95
Brake Pad Service $179.95
Schedule Service
Customer Reviews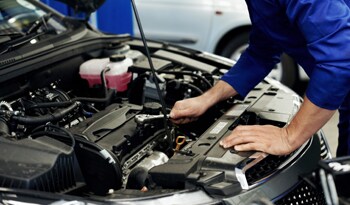 Coggin Deland Ford excels at treating our customers with the respect and attention they deserve. When you need a repair or regularly schedule maintenance performed, our dealership is here to make sure you get the most qualified and certified technicians for the job. Choosing an auto repair shop that specializes in your vehicle is the best way to ensure that your vehicle is getting repaired properly. Our technicians are capable of handling any make or model, and we invite you to come down and see the difference our service center can make.
Serving
Deltona

,

Daytona

,

Sanford

,

Port Orange

,

New Smyrna Beach

You chose a Ford vehicle because you wanted a reliable and trouble-free ownership experience. Our customer service staff recognize this, and we want to ensure you get the highest quality service and care possible. By choosing our dealership, you get access to our comfortable client area and award-winning vehicle parts. Our center only uses genuine Ford parts to ensure that your vehicle continues to run as expected.

We are capable of operating on any Ford vehicle whether it's old or new. If you haven't had service within the last few months, it's especially important to bring your vehicle in for a checkup. We can diagnose and fix most any issues that crop up, and you can even save money by catching potential problems before they become major issues. Certain components like engine belts can crack or fade over time. If they break, it can destroy your engine and cost thousands to repair. Catch these issues early and you can prevent serious problems later on.
Automotive Service
Not all auto shops have the ability to use original equipment manufacturer (OEM) parts. Our dealership always uses OEM parts to fix your vehicle, and we do this because it's how Ford designed the vehicle to function. Using aftermarket parts may not cause any serious issues, but they don't always contain the same level of quality as an OEM part. You may end up spending more over the life of the vehicle to replace parts that fail or are not covered under warranty.
Trust only OEM parts, and you'll always know exactly the quality of the parts being used in your vehicle. Some aftermarket parts may not be designed to work with critical systems, while other parts like brake pads may result in a less efficient stop. A few seconds in an accident can make all the difference.